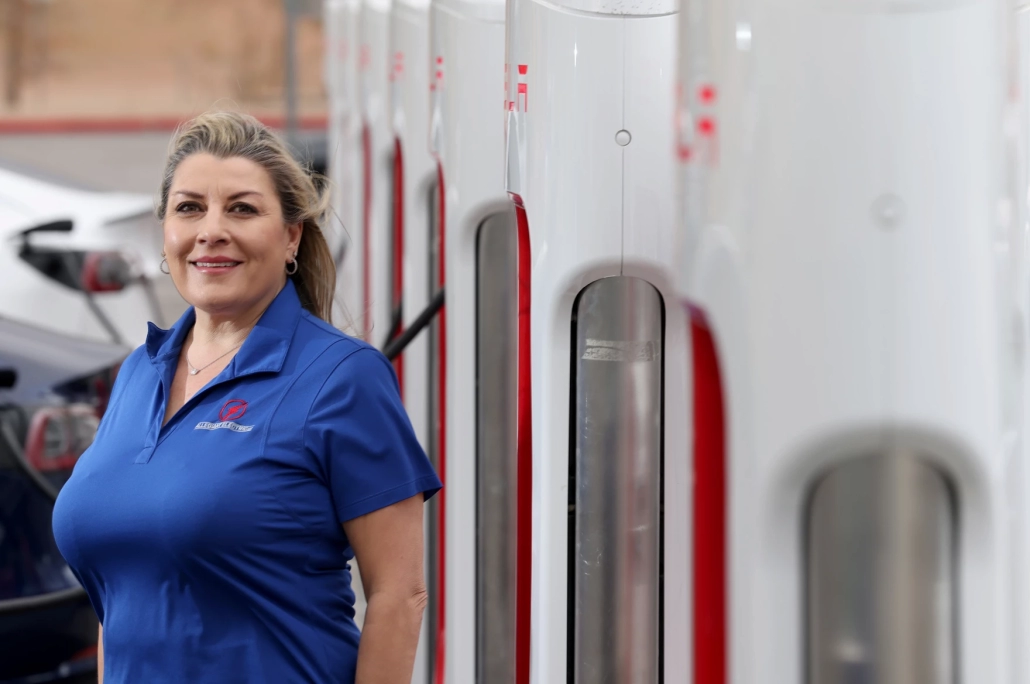 Allegiant Electric's Andrea Vigil uses the clout she accumulates to advocate for herself and others.
In October, Las Vegas resident and Allegiant Electric Chief Operating Officer Andrea Vigil sat around a table with seven other small-business owners to talk about the needs of Latinx communities. But this was no ordinary roundtable — it was in a conference room at the White House. At the head of the table was Vice President Kamala Harris. The group had been invited in recognition of their small-business acumen; Vigil, for instance, was named Nevada's 2022 Small Business Person of the Year by the U.S. Small Business Administration (SBA).
Though Vigil shared being a Latina and small-business owner with others at the table, she was the only Nevadan and electrical contractor. She took advantage of the opportunity to shed light on the lack of skilled labor and knowledge of resources that the state's small and minority-owned businesses are facing.
Vigil was operating according to her standard playbook. Accustomed to being the only something (woman, Latina, small-business owner) at most tables, she's learned to get the lay of the land, cultivate expertise, and then use her credentials to take up space and lift others to success.
Vigil says that her husband Anthony's background of 20 years' electrical experience, paired with her background in the solar industry, led to their cofounding Allegiant Electric in 2015. What started with the couple and three employees has grown to a total of 18 employees who offer a wide range of services.
"During the pandemic, when other companies were shutting down, we hired another 11 people," Vigil says. "So, we've continued to grow. Our services have really expanded. We're not only doing solar, residential, or commercial work."
Projects on the horizon for Allegiant Electric include the installation of electric vehicle charging stations for Tesla in Primm and Mesquite, a partnership with Forté Specialty Contractors, and bidding on electrical for various subdivisions with Toll Brothers. For 2022, Vigil expected Allegiant Electric to bring in about $3 million in revenue.
How did they get there? It began with education. As a first-time business owner, Vigil felt it was important to learn as much as possible about the electrical industry in Nevada. She immersed herself in all the locally available resources she could find.
"I got involved in a lot of small-business programs," she says, noting SBA's Emerging Leaders and Stanford Latino Entrepreneurship initiatives, and UNLV Cox Cares program, as well as various state programs. She also participates in the National Association of Women in Construction. As she networked with industry veterans, they advised her to get as many certifications as possible. So, she did: "I got certified as a WBE, which is a Women Business Enterprise; SBE, a Small Business Enterprise; DBE is a Disadvantaged Business Enterprise. …" The list goes on.
The couple also got woman-owned, emerging small business, local disadvantaged, and other statuses for their company, allowing it to tap into specially allocated funds and qualify for contracts that require specific accreditation.
Vigil serves as vice chair for WBEC-West, the Women's Business Enterprise Council in Nevada, because she wanted to be a voice for her peers and share her knowledge on how to grow with them.
Both her business success and professional service helped Vigil capture the SBA award, which recognized small-business leaders' entrepreneurial development and community impact, particularly during the COVID pandemic. Allegiant demonstrated this by adding staff and service vehicles, meeting payroll, and increasing its job-bidding capacity to $1 million.
When awarding this distinction, the SBA looks for engagement with other small-businesses, the community, and participation in SBA assistance, says Nevada SBA District Director Saul Ramos.
"Our mission is to help businesses start, grow, and recover. We go back to educating them, through training or mentorship," Ramos says. "At the end of the day, we want to position them to compete, succeed, and thrive. So, we're always looking at ways in which we can help them improve efficiency or hedge these high interest rates in the long term."
Vigil believes more small businesses should avail themselves of state resources, which helped Allegiant. "The SBA has been great," she says. "They've championed me all the way, with any questions I've had, especially when COVID hit. When there was so much confusion with the Paycheck Protection Program, you couldn't get a hold of anybody (nationally). But guess what? I got a hold of our local people."
Vigil is committed to using her platform to advocate for small businesses in the Hispanic community. "A lot of us, we're cash-based," she says. "We're mattress money people, so we don't necessarily go out and build a line of credit as small-business owners. So, how do you learn how to do that?"
She is also a woman, heightening the obstacles in her path — particularly in the construction field, where fewer than 11 percent of jobs are occupied by women. According to Vigil, general contractors have questioned her presence at job sites countless times.
"Fortunately for me, I have my husband and an amazing project manager, who back me up and say, 'She's the owner and an educated woman,'" Vigil says. "I know what we're doing, and I'm knowledgeable and capable of the work that we're out there doing."
Such experiences have encouraged her to use her voice, something she encourages other women to do, too. "I don't come to the table with an ego. I come willing to listen and ask for advice," she says. "For the women in the construction industry, I think it's so important for them to go out there and not be afraid. In any industry or field where it's male-dominated."
Mark Rogge, Allegiant Electric's project manager, says his boss walks this talk. "She's not afraid to go and put herself in front of people," he says. "Some of these contractors, they're the big boys. A challenge is, to get up the gumption."
Vigil believes teamwork and collaboration not only set her apart in a male-dominated space but will also help solve the skilled labor shortage her industry is facing. Allegiant Electric fosters this approach by bringing in workers for on-the-job training opportunities and sharing knowledge of the trade in the community.
"I just really hope that we all share our knowledge, and we all learn from each other and continue to build each other up," she says. "It would be better for us to all work together within our state."
To give back to the community that's supported them, Vigil and her husband partnered with groups such as HELP of Southern Nevada and donated services to their daughter's school.
The next phase in Allegiant's growth will come from an SBA loan. The couple hopes to buy a building to accommodate staff growth and help them respond to opportunities in solar, EV-charging stations, battery storage, lighting retrofits, and more.
Rogge, who's been in the electrical industry in Las Vegas for 30-plus years, says, "There's not much that we turn down. Andrea, God bless her, is aggressive as heck. And it's a good thing, because that keeps everybody on their toes. The work is there. And she has got a knack for finding it."
This piece originally appeared in Nevada Public Radio's Desert Companion.
https://knpr.org/desert-companion/2023-01-31/controlling-the-current
https://allegiantelectricllcnv.com/wp-content/uploads/2023/10/npr.brightspotcdn.webp
1168
1760
Allegiant Electric
https://allegiantelectricllcnv.com/wp-content/uploads/2021/04/logo-126.png
Allegiant Electric
2023-10-07 16:39:40
2023-10-08 19:13:47
Controlling The Current